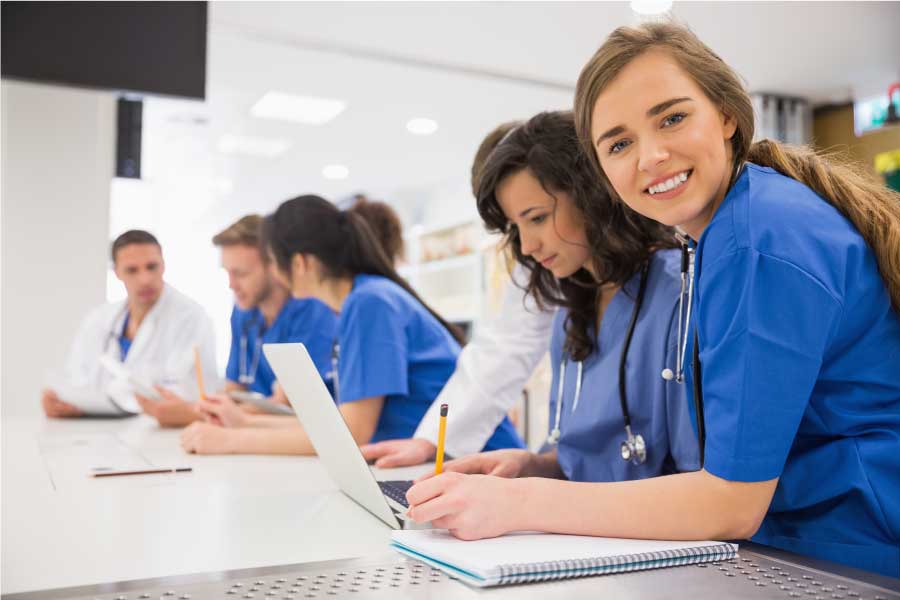 We've made it simple. There are several healthcare learning management system vendors on the market. Here's everything you need to know before you start your research.
LMS for Healthcare Institutions: Flexibility, collaboration, cost reductions 
A healthcare learning management system can deliver synchronous and asynchronous learning to medical professionals. Learning management systems offer collaborative training solutions, including self-paced and blended learning flexibility. 
A web-based learning platform makes training courses accessible anywhere, anytime. This extends to learning on tablets and mobile devices. A training solution can reach medical professionals and synergize their learning progress across all touchpoints.
Medical organizations benefit greatly from a scalable LMS that will expand as training demand and user volumes increase. A web-based learning management system can support large volumes of concurrent users who participate in activities simultaneously. 
Multi-tenant web-based learning management system
More extensive medical organizations benefit from a multi-tenant learning platform. National or international healthcare institutions with multiple premises benefit from a custom-tailored multi-tenant solution that can extend to partners or medical associations.
Each healthcare institution can administrate at a local level and incorporate its brand identity. This option is cost-effective and more efficient as it is only required to custom-build a single web-based learning management system used by several healthcare institutions. This also allows for better management of resources and coordination. 
Regulatory and compliance management
Ensure your organization is compliant. Medical professionals receive continuing education and have easy access to regulatory compliance training. This professional training can be automated and delivered to learners as a self-paced training program, and course administrators have access to performance insight and compliance certification.
Analytics and reporting
Healthcare instructors can track learner progress and certification. Instructors can easily assign courses to healthcare professionals and export those results.
Analytics and reporting ensure your organization has complete insights where course administrators can demonstrate medical professionals have the necessary certification to ensure compliance.
Medical institutions benefit from a bespoke analytics and reporting dashboard. A web-based learning management system based on Drupal technology offers more flexibility for when healthcare institutions need to adjust the reporting dashboard.
Analytics and reporting are automated and displayed in a dashboard tailored to your key performance indicators (KPIs). Course administrators can generate ad-hoc reports using bespoke filter options and have reports emailed frequently.
Mobile and Self-Paced Learning
Web-based learning management systems provide healthcare professionals with self-paced training access that can be undertaken on mobile devices and tablets.
As a result, an LMS must be user-friendly to ensure a positive experience. A positive experience starts with the design and UX/UI. Your learners will appreciate a minimalist and user-friendly design.
Some learners with disabilities benefit from accessibility options and can preselect enhanced accessibility options. Healthcare organizations benefit from a WCAG 2.1 AA compliant learning platform to be inclusive for users with disabilities.
Mobile and self-paced learning enable healthcare professionals to schedule their training around their work commitments and access training at any time from mobile and tablet devices. Healthcare professionals can start training on a desktop computer and switch to their mobile devices while on the go. 
Self-Paced learning is essential for medical professionals with a busy work schedules. Working hours differ, and catching up on training is often done late at night or early morning hours.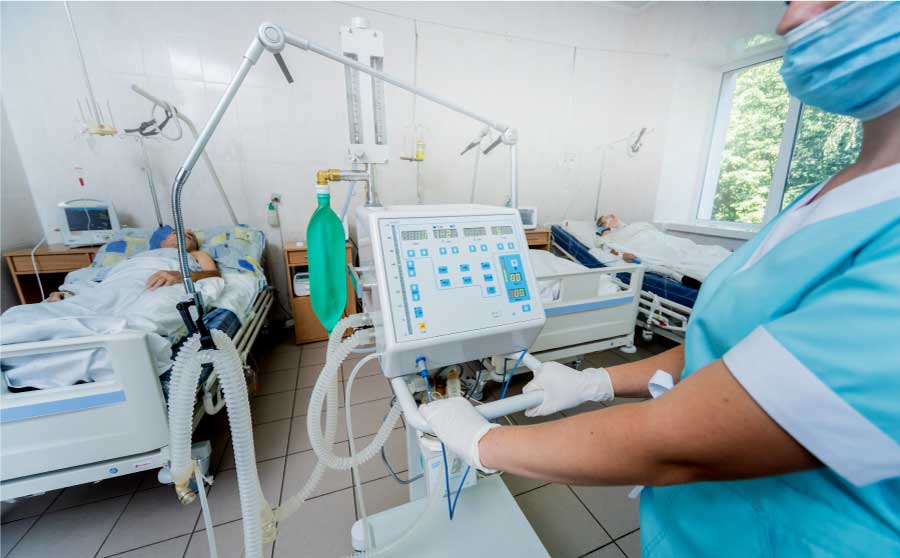 White-labelled mobile app
While web-based learning management is fully responsive and works on all major mobile devices, Healthcare institutions benefit from a white-labelled mobile app.
A white-labelled mobile app is non-branded and allows you to incorporate your brand identity. Your organization will have an exclusive learning app available for download from the Apple and Android store. Registered healthcare professionals can download and log in to the app with their credentials or through Single-Sign-On (SSO). 
The app will display your branding, and all data and training are synced. Healthcare trainers can push notifications through the app to learners or a specific user. This could be to remind and nudge learners or send essential announcements. 
Build and nurture a social community 
A learning management system enables organizations to build a digital community hub and facilitate social learning. Peer-to-peer interaction helps break down complicated points and allows learners to communicate with coworkers in a secure and private environment. Healthcare professionals can interact in the public social newsfeed or communicate with connections privately or through group discussions.
Social newsfeed / symmetrical communication
Healthcare learning management systems are equipped with a social newsfeed. Healthcare staff can easily share their perspectives and ask questions through the public social newsfeed or privately for more sensitive exchanges. Instructors can use the social newsfeed to respond to real-time questions and provide public responses. 
The social newsfeed is a good way for administrators to collect practical feedback. Symmetrical communication enables dialogue between participants in which all are equally likely to influence one another, change their opinions, and make decisions beneficial for all.
Social connections
Healthcare employees can build and grow their social connections with coworkers directly inside the learning management system. Their public social newsfeed will be visible to approved social connections. This establishes a social newsfeed targeted to a network of connections. Building connections with others enables promoting informal learning and increases learner engagement.
Real-time messaging
An internal messaging feature enables health professionals to communicate directly and see which connections are online. 
While exploring learning management solutions for your organization, ensure that the chat application is built-in to your learning platform to ensure it is not a 3rd party plugin. 
This is important as data collected through messaging could be stored with 3rd party applications in unknown locations. For example, the Opigno learning management solution contains a built-in native chat application for added data and privacy control. 
Healthcare instructors and healthcare learners can create instant chat groups to communicate with peers in a group or on a 1-to-1 basis. 
Forum/Discussion Groups
Forums and discussion groups are training-centric. Healthcare professionals will benefit from symmetrical communication directly inside public forums. 
Public forums are a superb way to encourage dialogue and share information efficiently. Peers can find common answers through social learning, and instructors can quickly administrate the forum.
Collaboration & Content Sharing
Encourage collaboration and User-Generated Content (UGC) in your organization. Allow healthcare advocates to become champions and shine through knowledge sharing.
You can provide your champions with earned badges to validate their engagement and participation. Healthcare champions can share editorial content, images, videos, and training documents with peers conveniently inside the learning platform.
Training feedback and rating
Training administrators need to collect training feedback. Insights enable administrators to improve and evolve the training discourse. You can benchmark feedback across multiple training programs to see what works best. 
Healthcare instructors can leverage feedback to increase training engagement. You can collect feedback and ask learners to rate the training. An instructor can also collect feedback and rating at a module and activity level.  Make sure to request this feature in your new LMS.
User-friendly Interface
The healthcare and medical industry benefit from a healthcare learning management system to deliver online training. eLearning training permits healthcare professionals to learn at their own pace, interact with peers, and enrol. 
Healthcare learning management systems need to be user-friendly, intuitive and seamless for users to have a positive experience and to return.  
Bespoke learning management systems have an advantage in providing a better user experience. Bespoke solutions leverage industry best practices and create a design unique to your organization and culture. The design can mirror your website and brand identity, or you can try something new. The result? Enriched user familiarity and positive experience.
Why not take it a step further? Healthcare organizations can incorporate a Single-Sign-on solution (SSO), enabling users to assess training without registering or signing in each time. A Single-Sign-on (SSO) can be implemented at a multi-tenant level. Once signed into their organization at a tenant level, each tenant can access the learning platform through a Single-Sign-On.
Adaptive learning paths
Rather than deliver identical content to all learners, adaptive learning facilitates course administrators with the ability to align course pathways to learners based on their previous results. Adaptive teaching can allow learners to skip lessons they already are competent in. 
Learners can then engage more deeply because the content is relevant and remains challenging. Adaptive learning paths enable course administrators to deliver personalized interactive training to the individual.
A Learning Path allows course administrators to enrol multiple users in the same course, saving valuable time. It's a straightforward yet highly-powerful feature available in learning platforms.
Training Calendar
Healthcare learners can access their personalized calendars inside the training program. The Calendar provides an overview of all upcoming training, live meetings and webinars events.
The Calendar can be integrated and synced with Microsoft 365 or other systems to ensure the users' work calendar is synced. Reminders can also be sent to learners through email and SMS notifications.
Synchronous and asynchronous learning
Flexibility is the key to any learning management system. Synchronous and asynchronous learning, social and blended learning are all delivered through a healthcare learning management system.
Synchronous and asynchronous learning is perfect for healthcare organizations where continuous education is paramount and flexibility is required. Combining synchronous and asynchronous learning into a training program is a powerful instrument.
Asynchronous learning enables the instructor and students to engage with the course content at different times and locations. The instructor provides students with activities that they can engage in to move through their training. This includes assigned readings, media, online quizzes, and discussion boards.
Synchronous Learning enables the instructor and students to engage with the course content and each other simultaneously but from different locations. The instructor interacts with students in real-time through various tools, such as video conferencing, live streaming, audio podcasts, presentations, virtual classroom and real-time chat messaging to engage in live symmetrical exchanges. Synchronous learning is ideal for incorporating group-based activities into the training program, encouraging critical thought and peer-to-peer reflection and ultimately increasing engagement. 
Top recommendations to take into account when selecting your LMS
Flexibility 
Flexibility, scalability and extendability;

Compatible, secure and standard technology;

Personalized solutions for your organization's unique requirements; 
Support
Customer support and response time;

Expertise, maintenance services and support;

Product life and regular updates and features.
Security
Security updates, 2FA security options;

Legal and privacy obligations, GDPR/FedRamp/Section 508 compliant etc.; 

LMS encryption/server encryption.
Hosting 
On-premise hosting possibilities;

Choose your preferred hosting provider;

Control and decide where sensitive data is stored and in what geographical location.
Architecture and compatibility
Architecture that supports multi-tenancy solutions;

Integration with other technologies;

Mobile and tablet compatibility.
Regular fees
Monthly user licence fees. Most SaaS and cloud-based LMSs charge up to 60 USD per user;

Cost for additional features and any associated subscription fees;

Length of contract and contract-lock in.
Custom-tailored solutions 
Custom-built Learning management system;

Bespoke statistics, reporting and exporting insights;

Custom integration. 
Administrative tools
Compliance
Compatibility with H5P/SCORM and xAPI;

Accessibility. Look for an LMS with WCAG 2.1 AA;

Security, legal and regulatory compliance.
Benefit from a live Opigno LMS demo
Opigno LMS is an excellent solution if you are looking for a flexible Healthcare LMS. Opigno is open-source and Drupal-based. An excellent web-based learning management system for healthcare organizations, particularly if they are already leveraging the power of Drupal. Schedule a demo.
Author: Adam Kennedy-Ripon
Design: Simon Contreras
Date: 12 May 2022