A LMS is a software system for managing training and education using the Internet, LMS is the abbreviation for 'learning management system.
Employee learning and digital transformation
Simply put, traditional learning methods are now digital. Technology is evolving rapidly, 5G is making internet speeds even faster, and employees are increasingly working remotely. Let's be realistic; you can say goodbye to the old ways of working, for they will never return. And large enterprises have already planned for the future.
This digital transformation started a decade ago, but the emergence of COVID-19 has increased LMS demand resulting in a significant increase in the adoption of digital platforms worldwide. Enterprises and multinational corporations are racing to implement advanced LMS's to strengthen business continuity strategies and prepare for new ways of working Post-COVID-19. 
Therefore, you've probably heard the term "learning management system (LMS)" thrown around a lot. You might be wondering what this means exactly, especially if you find yourself responsible for rolling out an LMS at your company.
What does that really mean for me?
If you're an employer in a medium or large organization, you're probably already engaging your employees with eLearning courses. Suppose you are a hiring manager or HR partner, in that case, you are probably providing employee training on an LMS on essential topics. If you are a new employee, you may have completed your onboarding training on the LMS or participated in corporate compliance training. That's essentially how an LMS can be used in the most common scenario.
Why are LMS's so popular with large corporations now?
Managing 5000+ employees is no easy task. Imagine that you had to organize and coordinate the in-person training for all those employees. Imagine scheduling their calendars, preparing training materials, and training rooms in person. That has become too costly and inefficient. A learning management system makes it easy to manage training content and deliver training to students, no matter whether they're on a desktop computer or a mobile device. Along with delivering online training content, an LMS can also track student learning and run reports that help administrators gain insights into how their training programs are performing. This analytical function can help learning and development teams identify gaps in training and develop more effective training.
LMS post COVID-19
During COVID-19, large multinational corporations realize remote working equals the same level of employee performance and does not disrupt the business. Multinational corporations are now closing and merging offices to reduce costs. Learning management systems automate employee onboarding and training that can be centrally controlled in multiple languages.
Education institutions initially used learning Management Systems
The first learning management systems began to be used in higher education in the late 1990s when e-learning began to be more popular, and now many corporate learning and development departments utilize learning management systems for their own training programs.
What are the key features
Now that you know the LMS definition, what are the key features you should look for?
First-class learning experience: An LMS should offer features such as a customizable and intuitive user interface, adaptive learning paths, personal user dashboards, and the ability to transition between devices and pick up right where you left off.
Course authoring tools: It should be easy to create engaging training with powerful course authoring tools, including a guided training creation wizard, reusable content blocks, and a graphical user interface.
Training and certification management: Your LMS should let you easily manage things like training prerequisites and recertification and automatically generate PDF certificates when a user completes a training.
Social learning: A learning management system can also support social learning through features like online chat or forums. Both of these options are an excellent way to boost the engagement of your training program.
Blended learning: While online learning through the LMS can potentially completely replace in-person training, you can also use your learning management system for blended learning by scheduling in-person sessions or virtual class sessions as part of the online course. 
Reporting capabilities: Your LMS should give you access to detailed reports to view how users are doing and how your training is performing.
Security: A learning management system should keep your data secure and be developed according to the highest corporate security standards.
E-commerce functionality: Many learning management systems also give you the ability to sell subscriptions to training, which may or may not be a consideration for your training needs. 
In the end, a learning management system can be defined as a software program that supports your online learning and development goals by allowing you to deliver and track your training content. The LMS should be customizable to your needs, allowing you to create a future-ready and robust training program. Still unsure, learn what is an LMS in more detail.
Learn more about Opigno's customizable e-learning platform today.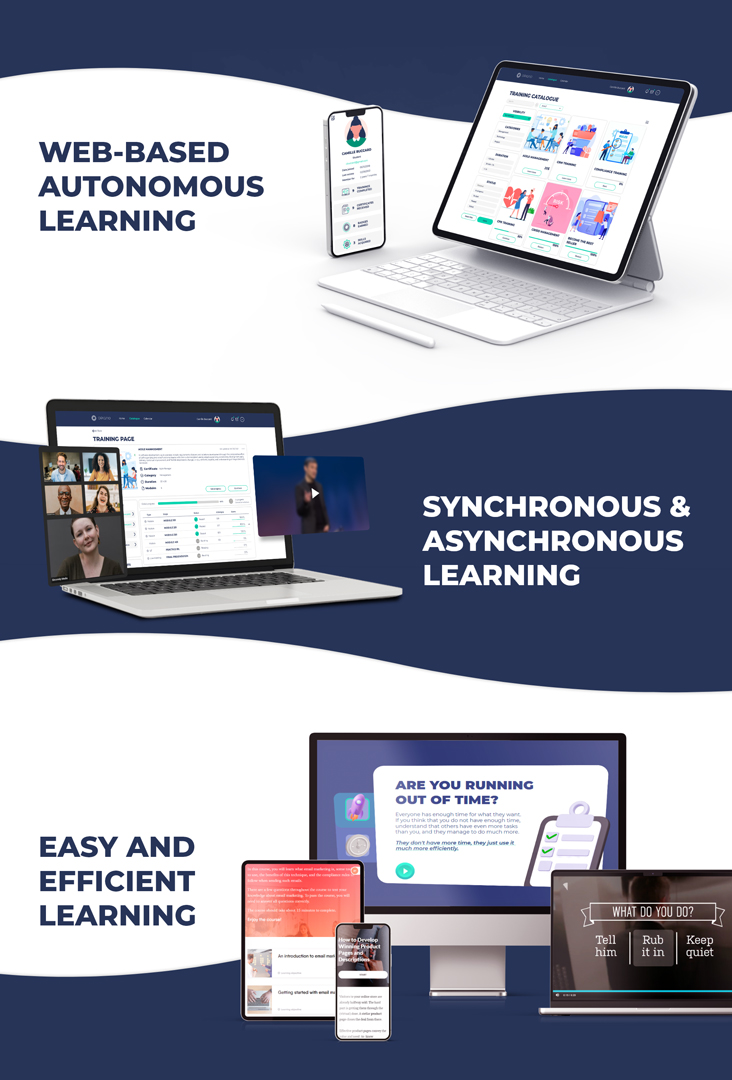 Date Published: 08/12/2021
Auhor: Adam Kennedy-Ripon
Infographic: Adam Kennedy-Ripon
Date: Monday, July, 26 2021