Image
Since 2013, Opigno LMS has been offering all the advantages of a modern Learning Management System parallel to the flexibility of Drupal.
The Opigno LMS project
Launched in October 2013 on Drupal 7, Opigno LMS 1.0 aspired to take advantage of the flexibility and scalability of the Drupal CMS to provide a unique learning experience for all.
The goal was straightforward; Opigno LMS must offer a stable and secure Open-Source standard version, available for free download on Drupal.org, and be easily adapted to the learning culture of any organization.
Opigno LMS is now used by many organizations worldwide; this includes the public sector, medium to large multinational enterprises, NGOs, Education institutions, and many others.
Opigno LMS is now among the most used Drupal distributions. In 2019, the Drupal "community" awarded Opigno LMS 2.0 the "International Splash Award International" in the Education category.
As a reminder, Drupal 7 updates will be no longer be supported beyond November 2022, and Drupal 8 support ends on November 2021. Opigno platforms, based on Drupal 8 technology, can be updated relatively easily. However, Opigno LMS 1.0 will require same developments in order to be upgraded to the latest version in November 2022.
Since 2013, the Opigno LMS platform continues to expand. Opigno LMS benefits from Drupal's progress, parallel to the expertise of the Opigno Team within the e-Learning sector over the past several years.
Opigno LMS 3.0 will be available on September 10
Opigno LMS 3.0 has a complete makeover, an innovative design that is much more modern, with a clear focus on mobile learning and user experience.
More information is available to learners, and they can make "connections" on the platform with other peers. Social learning got better; learners can share their training, badges and certificates.
The design highlights clearer, more straightforward and lighter ergonomics, which was an unprecedented challenge as Opigno LMS includes many features for learners and managers. And, of course, developing the LMS for Drupal 9, which provides more flexibility and stability than the previous version.
Any organization with an Opigno LMS 2.0 platform can contact us now to discuss a migration to Opigno LMS 3.0.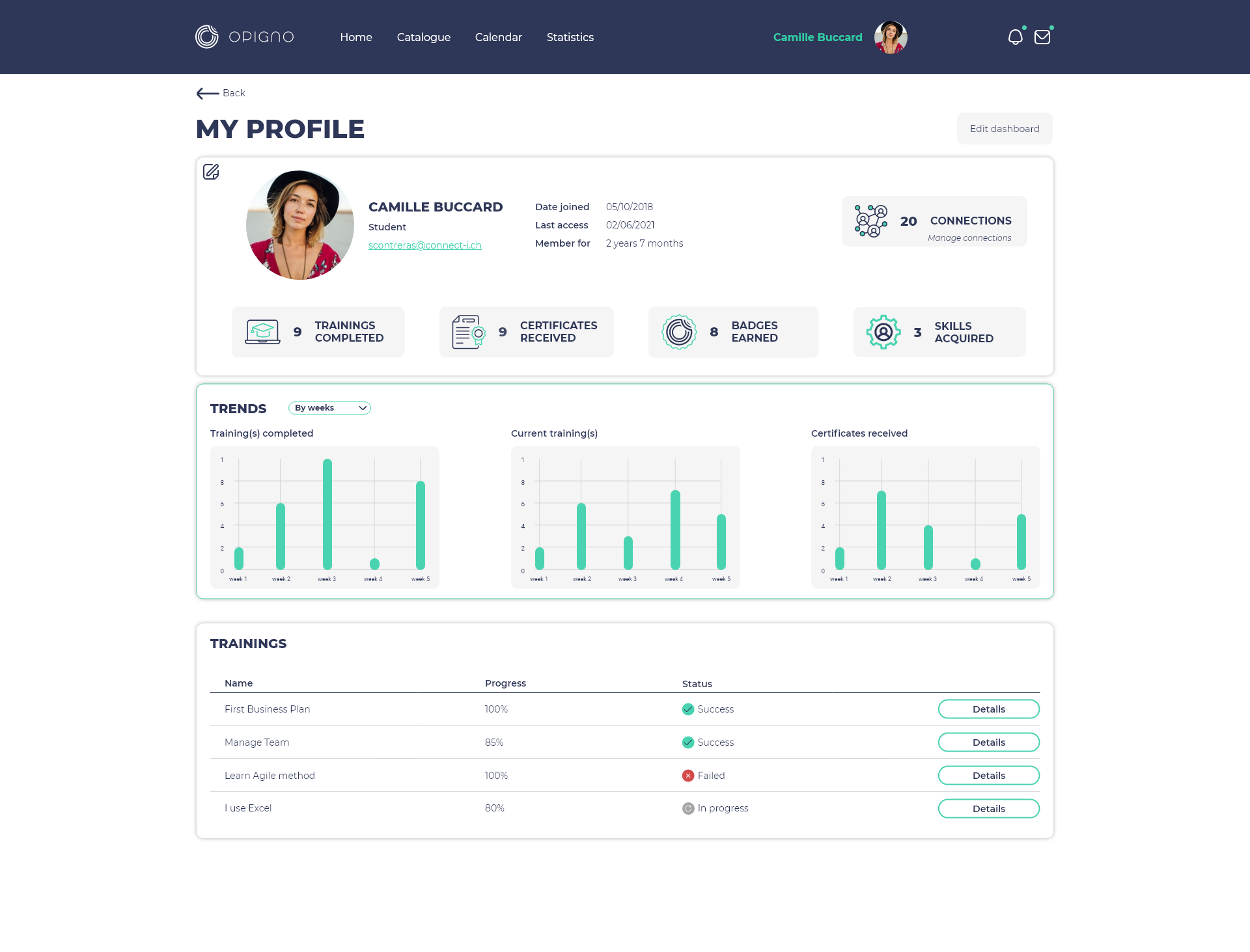 Opigno LMS 3.1 will be available at the start of 2022
Opigno LMS 3.1 will be as important as the Opigno LMS 3.0 version; we plan a complete code optimization for additional responsiveness and flexibility. The administration interfaces will all be neat to guarantee managers a more flexible and efficient way of working.
Opigno LMS will have a special near future, with two important releases and extra focus given to all Opigno LMS stakeholders: learners, training managers, administrators and developers.
Get in touch now to migrate to Opigno 3.0.
Author: Adam Kennedy-Ripon
Design: Simon Contreras