Employee training is not an expense but an investment into improved productivity, reduced turnover, and the professional growth of your team. However, you can squeeze out even more payoff from your L&D budget by moving to an e-learning platform. Here are some inspiring numbers:
42% of companies see an increase in revenue after implementing e-learning, with every dollar spent bringing $30 in increased productivity.

Professional training via LMS can increase employee engagement, performance, and retention by up to 92%

By moving from physical classrooms to corporate e-learning tools, IBM saved nearly 70% on training costs, while Dow Chemical reduced its training course costs from $95 per learner to $11 per learner.
Many factors are responsible for such striking results, so let's break down the expenditures associated with online and offline strategies and check their contribution to ROI. As a bonus, we've prepared several tips on making the most of the training resources.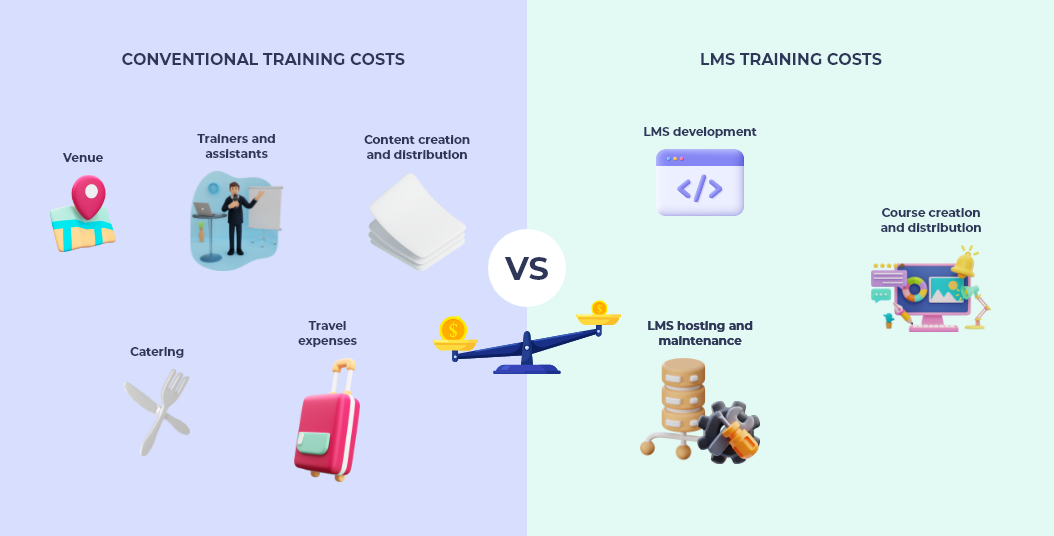 Conventional training costs
Costs incurred by organizing the training are the first ones that come to mind when talking about L&D costs in general. They are also the first expenditure items that will shrink after implementing an LMS, as most face-to-face training costs come from the necessity of allocating space and time for training and having trainers and learners on site. And the bigger your operations are, the more noticeable the change will be.
Venue
Not every place is suited for learning, so companies either design and equip their own learning space or rent one. Unfortunately, both options cost a pretty penny. In the first case, the expenses consist of building and upkeeping the auditorium, paying for utilities, and upgrading office machines, blackboards, training equipment, furniture, projectors, etc. In the case of renting, the cost heavily depends on the space's footage and location. Either way, we are looking at thousands of dollars per year.
Catering
In-person training is usually condensed into intense sessions that can take up to several work days, so naturally, you need to cater to learners with some snacks during that time so that they can stay energized and focused. That's several hundred dollars worth of food each day at minimum.
Trainers and assistants
A trainer's fee rate depends on their expertise and qualifications but usually doesn't go lower than $100 per hour. While extensive general lectures can accommodate many people at once, a training session dedicated to some specific matters is traditionally conducted in small batches of 10–15 people. That means if you have more learners attending, you either need several trainers at several venues, or the training will spread out over several days per the number of learner groups, resulting in thousands of dollars in expenses per finished course.
Travel expenses
Another expenditure item is travel and accommodation of the experts and nonresident learners for the training period, which can go well over $1,000 per day per person. According to KPMG, up to 60% of large organizations' training costs can be attributed solely to traveling.
Content creation and distribution
Finally, the content itself costs quite a bit: finding the materials, creating learning scenarios, and packing it all into a cohesive course requires a lot of expertise, with each course hour taking over four hours of development. So just building one course can cost over $10,000.
Then comes the distribution part. In-person learning traditionally relies on printed handouts. Each participant needs their own copy. Now imagine that you decided to change the course in half a year as some info got outdated or one of the modules turned out subpar — now you need to redesign, reprint, and redistribute the new edition across departments. The only party that benefits from all this hustle is ink cartridge producers.
To put things into perspective, for an average company with 500 employees that has bought seven courses and made another three in-house, conducts in-person training sessions once a quarter, and rents the training space, the learning cost could be around $1.5 million per year.
LMS training costs
LMS eliminates most expenses associated with conventional offline learning — venue renting, traveling and accommodation, catering, and content distribution. And as for trainers' fees and content creation, it reduces the cost per learner significantly simply because you can train an order of magnitude more learners simultaneously. In fact, companies can save between $10,000 and $16,000 per one IRL training course turned into virtual instructor-led training. Imagine the savings self-paced learning can bring!
However, working with an LMS entails its own costs.
LMS development, hosting, and maintenance
Being a fully-fledged IT project, LMS development, hosting, and maintenance costs can vary from $0 to $75,000 and more, depending on what option you choose — building your own LMS, buying one, or implementing an open-source solution.
In-house development
To build an LMS from scratch, you need a team. The core lineup of a development team consists of a project manager, a business analyst, a UX/UI designer, frontend and backend developers, a DevOps engineer, and a QA tester.
The development process can take up to two years, depending on the project's complexity, so the project cost roughly equals the department salaries for the development period. However, keep in mind that your internal developers are much less knowledgeable about LMSs than a vendor's dedicated team. So even if your internal hourly rates are lower, the number of hours will probably be higher.
Proprietary LMS
Proprietary solutions are the property of the company that developed the LMS, and you pay for the right to use the tool. The provider most often hosts and maintains the platform, and these costs are integrated into the fees.
Usually, the payment consists of a fixed setup price and a tiered monthly license fee per user. Some subscriptions are also based on pay-per-use or pay-per-course rates. The fee tiers also depend on the services and feature packages you choose depending on the level of service and support you require, but generally, they don't include custom developments.
As you can see, with such multilevel pricing, proprietary LMSs costs may vary significantly. Here are some approximate rates for popular solutions as an example:
| LMS solution | Monthly fee per user | Estimated yearly price for 1000 users |
| --- | --- | --- |
| 360learning | Starting at €8 | €96,000 |
| Rise Up | Starting at $12 | $144,000 |
| Canvas | Starting at $3 | $36,000 |
| Blackboard | Starting at $5 | $60,000 |
Open-source LMS
Open-source solutions don't involve any license costs by definition; the code is entirely accessible. However, you need technical skills to implement it, add the desired customizations and integrations, and deploy the ongoing updates. These costs vary depending on the experts involved — their competency level, and whether it's your IT department or an external service provider.
The service provider may also offer to host and/or maintain the LMS, in which case you will have to add the respective costs to the bill.
Even when moving to an LMS requires large upfront spending, it pays off in the first year or two as the recurring and hidden costs are way more manageable, especially compared to traditional learning organization costs.
Course creation and distribution
As we said before, online courses can be cheaper than those taught offline. The first and most obvious reason is that there are no printing costs with the courses stored and distributed online.
However, the course design process in itself can also be cheaper with an LMS, as the majority of them come with a built-in authoring tool where you can do pretty much anything with little to no help from a developer:
Create brand-new learning content.

Repurpose your older courses.

Integrate any media you want and enrich the training with gamification and interactive elements. And you don't need deep technical expertise to assemble such a course.

Update courses anytime, and all learners will get the correct version instantly.

Create different versions of the same course for A/B testing to finesse your training.

Or create different course versions for different learner types for a more tailored approach.
To create a simple course, you only need a subject matter expert and an instructional designer that usually charges up to $150 per hour.
Some LMSs charge around $1,000 per year as a separate fee for the authoring tool, but it's negligible compared to the benefits you get in return. You can also create courses in a separate authoring tool and then upload them to the LMS. Moreover, some LMSs come with pre-made courses, which serve as a nice head start.
That same average company with 500 employees would spend around $150,000 on implementing a self-hosted LMS and making online courses in the first year, which is ten times less than it would lose on a traditional training organization.
Offline vs. online training efficiency
Now that we've covered the main expenses associated with offline and online training, let's look into how both approaches perform in terms of training ROI and efficiency that come directly out of the way the training process is built around them. Here we won't be able to pinpoint exact cost ranges as they are highly individual to each organization. However, there are some telling factors in favor of e-learning.
Time spent on learning
Time is the biggest reason traditional learning is so disruptive to the work process and the first and foremost reason to consider e-learning.
Online learning requires half the time that traditional learning does, thanks to the exceptional flexibility and availability of online resources. You don't need to wait for an expert's open dates to schedule long, massive classes and drive employees to a different office, hoping they will retain at least some information. Instead, your learners can access training materials whenever and wherever they need t — at their desk while looking for help on a work task, commuting, or in the comfort of their home.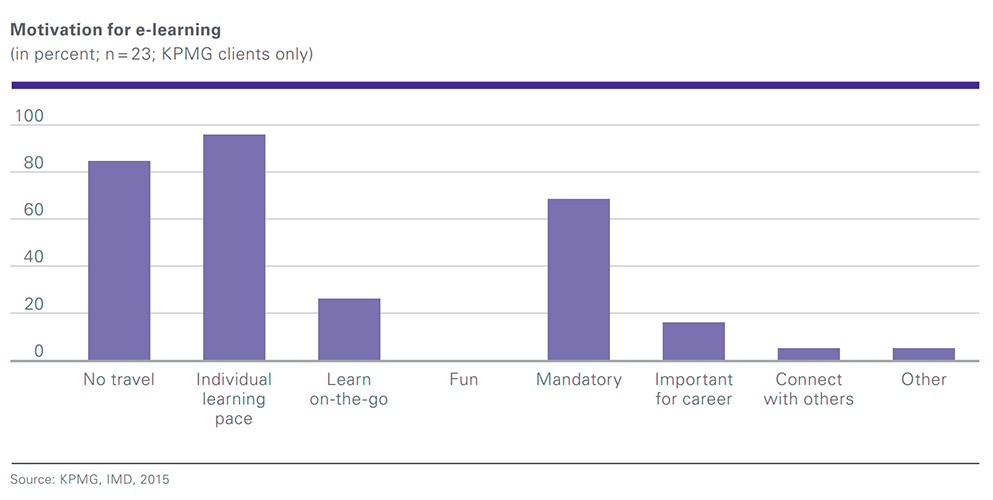 All of that allows learners to allocate their time for training more efficiently so that it doesn't hinder their work productivity. In fact, KPMG names individual learning pace (95%) and no traveling (84%) as the main e-learning motivators for employees.
Training flexibility
Besides 24/7 availability, another thing that distinguishes e-learning favorably is adaptability to learners' needs and preferences.
When you organize in-person training, you don't really have the resources and ability to train an employee separately. So you hold a standard class, let's say, for a department team, regardless of whether someone within a group is already acquainted with the subject or has a more challenging time listening to a lecture than reading — they have to abide by it.
On the contrary, training via an LMS enables you to create course variations regarding learning material difficulty, main media format, learning paths, etc., without going bankrupt. And your learners can choose what works best for them, which improves engagement and knowledge retention.
Assessment Automation
A big part of conventional training is in-person feedback which takes up time, driving the cost of an expert even higher. However, counterintuitively, the effectiveness of feedback doesn't have to have a human touch to it. It's much more critical for it to be timely, preferably immediate. Automation pretty much solves this issue, as the LMS can point out exactly what the learner needs to improve in real-time.
Gathering assessment information will benefit you, too, as it shows gaps in the training course and opportunities to grow. Plus, you can collect the learners' feedback about their experience on the platform.
Learning continuity
Traditional learning is too costly to provide to every employee non-stop, so training sessions are usually quite dispersed in time. This alone hinders the effectiveness of the learning, as such an approach lacks the necessary consistency level.
With the LMS, you can facilitate continuous and comprehensive learning through different tactics. For example, self-paced learning doesn't rely on third parties' availability; the only thing needed is the learner itself and access to a platform, so they can hop on a new course or revisit the old one as often as they want.
Another example: microlearning provides information in bite-sized chunks so that the learner can acquire new knowledge right on the job. And LMSs with social features enable peer learning so that the learners can discuss the topic and exchange new information even after the regular training session.
Overall, we advise you to consider switching to an LMS if your company:
Requires compulsory staff training.

Has remote branches.

Has an intense workload that cannot be disrupted for several days.

Has too many employees to train in person.

Wants to save money and time without compromising training results.
Moving from face-to-face offline corporate training to an LMS cuts training costs tenfold, improves the learning process, and makes it more efficient, bringing more return for less investment.
And here is a promised bonus —
Five saving tips for your future LMS training
Course creation remains the largest e-learning expenditure item after building an LMS from scratch, so here are tips that can alleviate some of the costs:
Thoroughly assess training and what skills and competencies will benefit your company the most. You don't need a giant library of courses to achieve substantial results. Oftentimes, a limited set of core competencies drives the majority of success. Focus on them while building the training paths.

Then assess where your employees stand regarding each of these skills' levels. It's imperative to have a clear understanding of the training goals. This info will also come in handy for creating different difficulty-level courses.

Audit your current learning materials, including traditional handouts — which are still relevant, what can be improved, and what is missing altogether. Making a quality interactive course is much cheaper when you already have a PDF with all the valuable information.

Find experts within your team and incentivize them to share the knowledge they've accumulated over the years of working with your company. For example, you can allocate a paid hour every week to create a knowledge base where they would write instructions for the most frequent or tricky cases.

Share training materials with other organizations to split the cost when appropriate. Utilize free resources; they are often just as good as the premium-paid ones. Look into the massive open online courses on Coursera, FutureLearn, edX, and Udacity — there is a high chance that someone has already made a course you need.
If you are looking for a robust and scalable but affordable e-learning platform, check out our solution. Opigno LMS is a fully customizable open-source platform used by thousands of organizations worldwide, from small enterprises to international NGOs, major corporations, and governments.
Published on May 16, 2023.